Bringing cutting-edge STEM education to your students, go for an excellent educational programmable drone. But it doesn't need to cost an arm and a leg as you can have an affordable one yet helps you build and code the UAV.
There are a lot of drones for education that you can learn at home or in the classroom. Top drones in the market are awesome to fly with incredible features and stability, can capture stunning aerial photography and even bring innovative solutions to different fields. However, these drones could cost a lot yet not ideal to learn coding.
With so many of them in the market, how would you know what drone is perfect for you and your students?
No worries as we've searched some programmable drones for sale for you! Here, we highlight exceptional drones for education, which give you what you need for coding and building. We've also added some videos and links where you can find more information about them.
Exceptional Educational Drones
These drones have exceptional programs and features but really affordable.
Robolink CoDrone Pro, Lite and Mini educational kit
DJI Tello EDU drone
DJI Tello Iron Man edition
Parrot Mambo Fly educational drone
Makeblock Airblock educational drone
Drona Aviation PlutoX kit
Sky Viper e1700 stunt drone kit
Robolink CoDrone Pro, Lite and Mini educational kit
Robolink's goal is to make fun and approachable robotics kits that bring computer science to life and teach real industry competency. They were the first to make a programmable educational drone which is CoDrone Pro, their best selling programmable drone kit. Later on, they introduced CoDrone Lite at a more affordable price without the use of a remote control. CoDrone Mini, the latest model of CoDrone with a remote controller, is being offered at a really low price of $89.99 and being used in Robolink's learning curriculum through virtual classes and virtual camps. Their curriculums, including how to build the remote and how to program the drone, can be accessed for free from their website and they have a community forum where most questions/concerns related to the product are being addressed. All of these drones can be shipped across the world.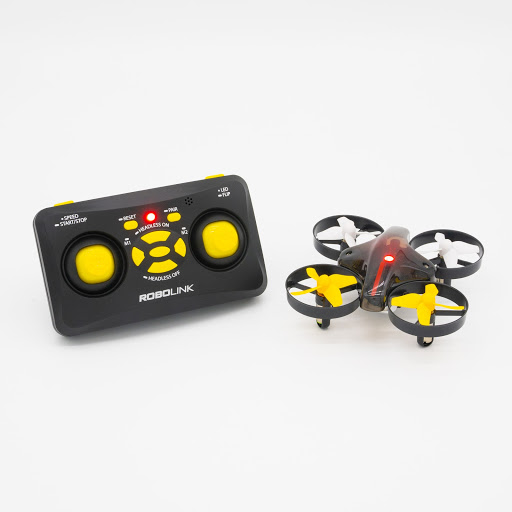 CoDrone Mini
CoDrone Mini is a mini drone that's smaller than Pro/Lite. It's programmable in Blockly and Python, which you can use to make the drone fly in patterns, control the lights, and even do flips. It's an awesome way to get introduced to basic coding concepts, then see your code take flight.
CoDrone Mini Features:
Flight Time: 5 min
Battery Charge time: 40 min
Flight Range: 160ft.
Gyroscope: 3-axis gyroscope and 3-axis accelerometer for altitude control
Barometer Sensor: Assists with altitude control
Radio Frequency Connection
Dimensions: 80mm x 80mm
Weight: Just 20 g
CoDrone Mini Features:
Flight Time: 5 min
Battery Charge time: 40 min
Flight Range: 160ft.
Gyroscope: 3-axis gyroscope and 3-axis accelerometer for altitude control
Barometer Sensor: Assists with altitude control
Radio Frequency Connection
Dimensions: 80mm x 80mm
Weight: Just 20 g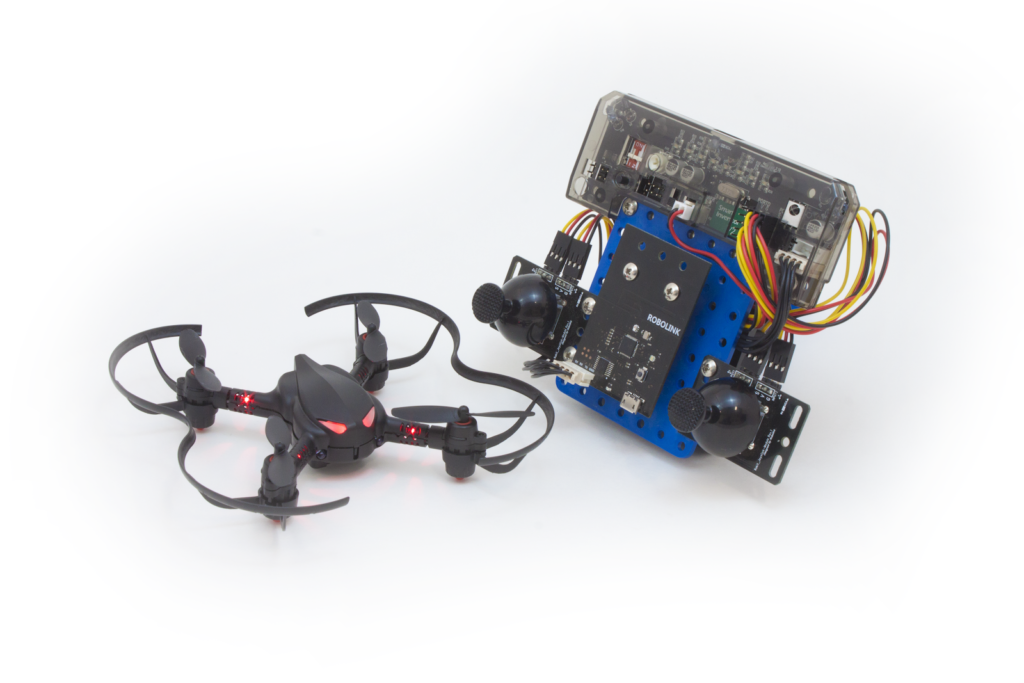 CoDrone Pro
The CoDrone Pro is the same as the CoDrone Lite, but it also comes with an Arduino-compatible buildable remote. It can be programmed with Arduino, Python and Blocky.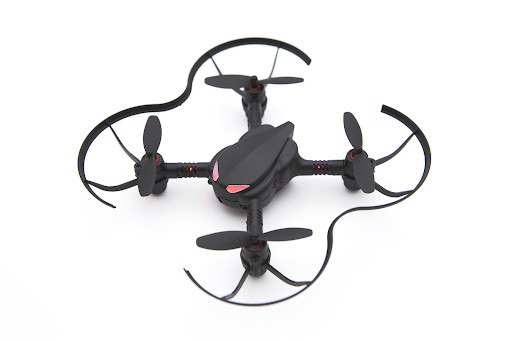 CoDrone Lite
CoDrone Lite has everything CoDrone Pro has, but without the complexity of the Arduino-based remote controller. It can be programmed with Python, a text-based coding language or a block-based one which is Blockly.
CoDrone Pro and Lite Features:
Flight Time: 8 min
Battery Charge time: 40 min
Flight Range: 65ft.
Gyroscope: 3-axis gyroscope and 3-axis accelerometer for altitude control
Barometer Sensor: Assists with altitude control
Hovering: Optical flow sensor for hovering
Dimensions: 133mm x 133mm
Weight: Just 37 g
IR Sensors
Bluetooth 4.0
DJI Tello EDU drone
Tello EDU is an impressive and programmable drone that suits well for educational purposes. It can be easily programmed with Scratch, Python and Swift. They can fly in a swarm and develop amazing AI functions. With an upgraded SDK 2.0, Tello EDU comes with more advanced commands and increased data interfaces.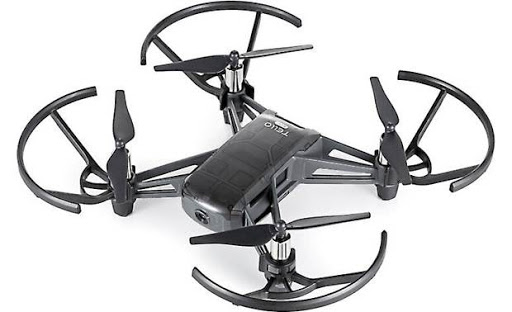 DJI Tello EDU drone Features:
720P HC Transmission
5 MP Photos
13-min Flight time
Precise Hovering
Programs a swarm of drones
Mission pads offer multiple fun uses
Multiple Flight Mode
Unlock More possibilities with SDK
DJI Tello Iron Man edition
Inspired by Iron Man's classic armor, Tello Iron Man shell includes the heroic Arc Reactor, motors and propeller tips dipped in gold. It's the same with Tello EDU except for it's frame design of the Iron Man character. It's a minidrone that gives you an immersive experience into Iron Man's world.
It supports the Tello EDU app and Swift Playground app in addition to Python and Scratch, a visual programming language.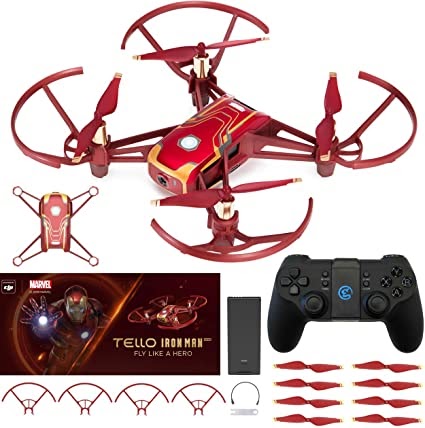 DJI Tello Iron Man features:
Intelligent Flight Functions: 360, Throw and Go, 8D Flips
FPV camera: 720p HD transmission, 5MP Photos, Electronic Image Stabilization
13 minutes flight time
100-meter maximum distance
Parrot Mambo Fly educational drone
Parrot Mambo is a fun and easy to fly racing drone for beginners. It's a small plastic drone that's intuitive to fly, small enough to fit in the palm of your hand and so lightweight (at 63g without its propeller guards) you'll barely feel it. It is considered one of the most stable mini-drones on the market because of its intelligent auto-pilot system, advanced flight controller and powerful sensors.

Parrot Education was launched to support the drone revolution occurring in academic institutions across the globe. From primary schools to PhD's, drones offer an astonishing new aerial perspective with countless applications that cut across disciplines, including science, technology, engineering and mathematics (STEM), as well as film, media, and journalism.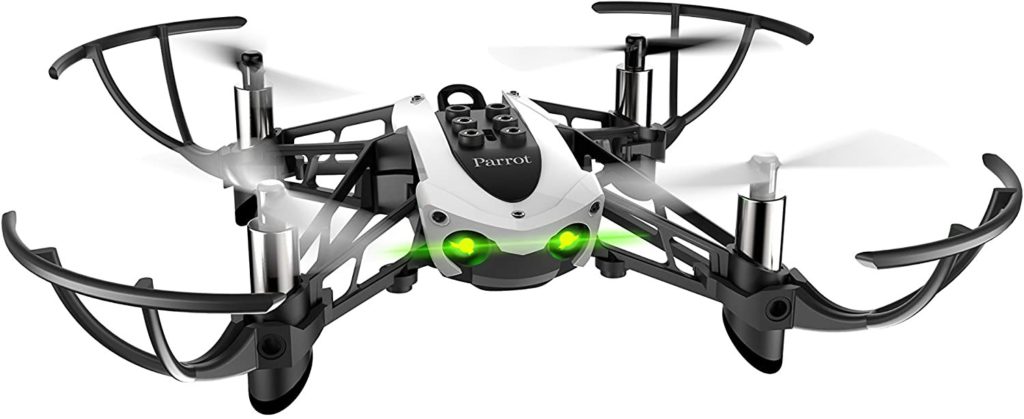 Parrot Mambo Fly Specifications and Features:
Dimension: 5.2 x 5.2 x 1.6 inches
Weight: 2.2.4 ounces
0.3–megapixel camera and 1GB internal storage
Battery life: up to 9 minutes of continuous flight
Charging time: 30 minutes if connected to a 2A USB adapter
Autopilot feature
Cut-out system: automatically shut off
Performs aerial stunts, barrel rolls and flips
Three piloting modes (Easy, drift and racing)
Makeblock Airblock Modular Programmable Drone Kit
Makeblock introduces the first modular and programmable drone, the Airblock. Airblock is not just a drone but can also be switched to hovercraft and be transformed to numerous shapes, which can be exciting to kids and adults. It is a learning toy which aims young pilots to dive into the basics of STEM education.
Airblock has won several awards including the German iF Design Award, the German Reddot Product Design Award, the Korean K-Design Award, the American IDEA Award for Makeblock Neurons, the Japanese Good Design Award and other international industrial design awards.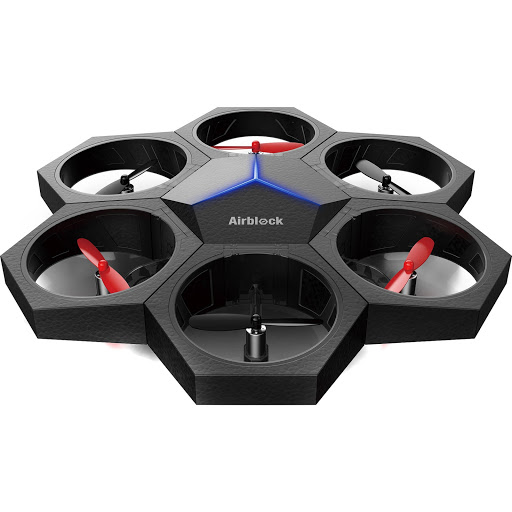 Makeblock Airblock Specifications and Features:
Control distance: 10 meters
Max Speed: 1.5 m/s
Control: Makeblock App
Connectivity: Bluetooth
Electronic Modules: Ultrasonic Sensor, Barometer, 6-axis Gyroscope, Bluetooth, Hollow-cup motors×6, RGB LED
Power supply: 7.4V, 950mAh lithium battery
Battery life: 6-8 minutes
Dimensions: 230 × 222 × 53 mm (L × W × H)
Weight: 141g
Module: innovative magnetic design
Transforms into numerous shapes
Aerial stunts with simple hand movements
Drona Aviation PlutoX kit
Pluto X is a programmable crash resistant nano drone with a camera. The SDK for PlutoX is based on the Cygnus IDE and API so playing around with the code and teaching it new tricks is a lot easier than one would imagine. It can be programmed with C++ programming language. Drona Aviation claims that PlutoX's 3D printed frame is sturdy enough to survive through any and all torturous experiments that you can think of. Just be open to experiment!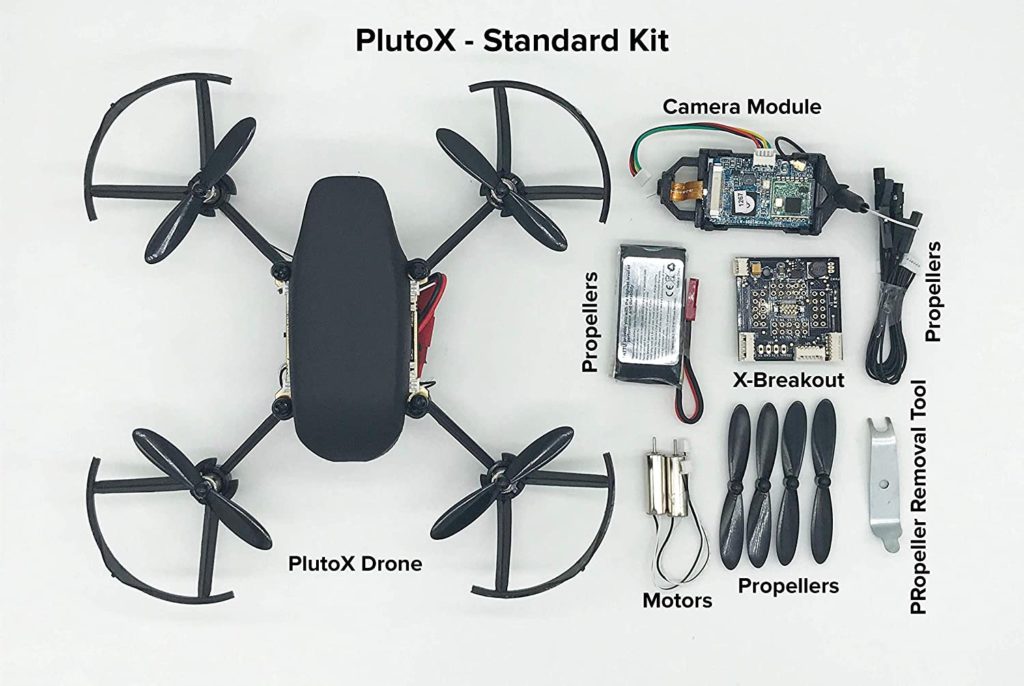 The standard kit includes:
PlutoX Drone
X-Breakout to further experiments
Smartphone App
Cygnus IDE
Proptool, Propeller set and 2 motors
Camera Module
Pluto X specifications:
Flight Time – 9 minutes
Payload – 15 grams
Communication – WiFi 196 feet (60 meters)
Frame – Open Source and modifiable
SDK – API Based Interface
Sky Viper e1700 stunt drone kit
Sky Viper e1700 is a buildable drone that comes with an app that makes its assembly easy with step-by-step animated instructions. It's a great deal for building and flying with its high performance.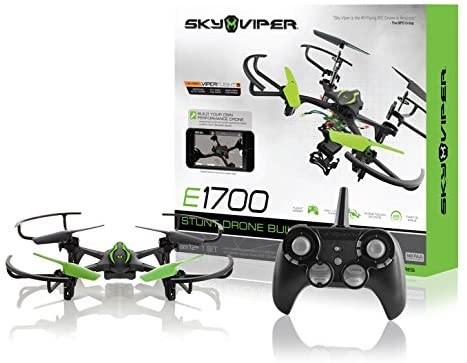 Sky Viper e1700 Features:
Improved auto hover: release the left thumbstick until the next command.
Flight sensitivity: choose the responsiveness to your controls based on your skill level.
Dual Flight Mode: choose an auto or manual flight.
Flight Controller board: comes pre-programmed with ViperFlight 5, a state-of-the-art control firmware based on platforms commonly used in racing-class drones
Flight Assist: makes flying easier for casual flyers and beginners
Sky Viper e1700 is lightweight and safe to use indoors. It's perfect for flying outdoors to perform awesome stunts with its speed of up to 25 mph.
References:
https://www.dronezon.com/learn-about-drones-quadcopters/best-educational-drones-kits-to-build-and-code-uavs/
https://www.dronaaviation.com/plutox/
https://www.makeblock.com/steam-kits/airblock
https://www.ryzerobotics.com/ironman
https://www.ryzerobotics.com/tello-edu?site=brandsite&from=landing_page