Parrot Mambo is a fun and easy to fly racing drone for beginners. It's a small plastic drone that's intuitive to fly, small enough to fit in the palm of your hand and so lightweight (at 63g without its propeller guards) you'll barely feel it. This minidrone is more expensive than many of the more basic minidrones out there, but it's accessories mean that it'll give you so much fun that will last much longer – you can get a cool grabber claw device and an awesome little cannon that really shoots actual BB pellets (accessories sold separately).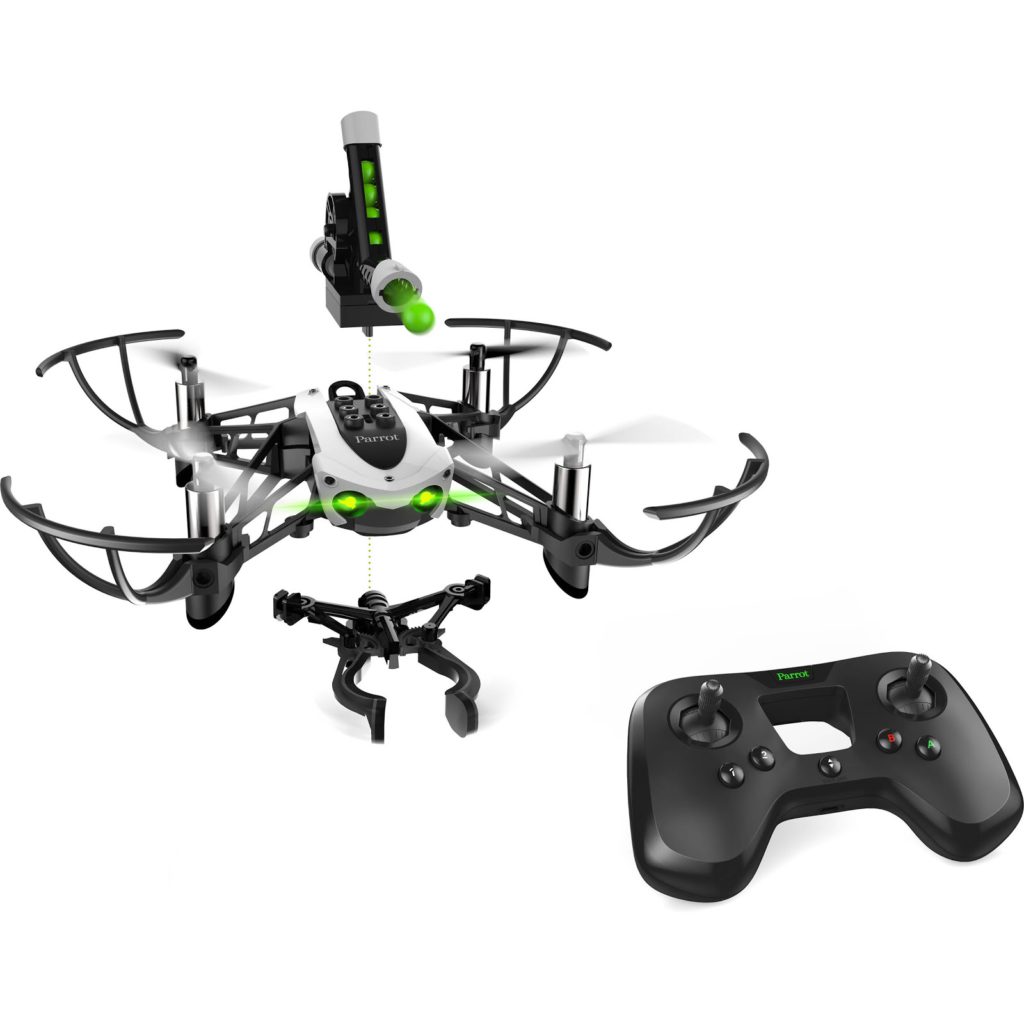 Mambo is considered as one of the most stable minidrones in the market. With a size of 5.2 x 5.2 x 1.6 inches, it weighs just 2.2.4 ounces, so it does not need FAA registration. It also comes with a 0.3–megapixel camera and 1GB internal storage (not expandable) which is not that great. It can be compared to an old VGA webcam level of quality – it's a bit blurry and the colors are not so good. But still, it can be fun to get a top-down view of your lawn space. As for the Battery life and charging, you can expect up to 9 minutes of continuous flight – good enough to have a quick round of fun. Charging takes only 30 minutes if connected to a 2A USB adapter, which is fast.
One of the most notable features of this minidrone is its auto-pilot feature, there will be no trouble in controlling and to take pictures from the air. There is also a 'cut-out system' feature where it will automatically shut off just in case an impact takes place. Additionally, this minidrone performs aerial stunts, barrel rolls and flips. Also, with the three piloting modes (Easy, drift and racing), this minidrone adapts to all skill levels.
See mini drone that is small in size but big on code – Robolink's CoDrone Mini
Mambo can be controlled through an app, a remote control or with your favorite tablets and chromebooks. Parrot partnered with the best coding platforms to offer many options to code drones. This is supported with block coding (Tynker, Blockly) and also text coding (Javascript and Python).
Generally, if you are looking for a starter drone that does a lot of things than flying, Parrot Mambo is the drone for you. But if you are looking for high quality photos or videos, this might disappoint. Also, it doesn't do well in light wind outdoor venues. Since its lightweight, even small amounts of wind affect its speed and controllability.
Parrot has confirmed it is discontinuing its minidrone manufacturing as the company is now focusing on commercial drones and withdrawing from the toy and mini-drone industry, so items are not available online for sale.
References:
https://www.trustedreviews.com/reviews/parrot-mambo
https://www.stuff.tv/my/parrot/mambo-fpv/review
https://www.techradar.com/reviews/parrot-mambo-fpv