Makeblock introduces the first modular and programmable drone, the Airblock, which can be bought at a very reasonable price of $99. Airblock is not just a drone but can also be switched to hovercraft and be transformed to numerous shapes, which can be exciting to kids and adults. It is a learning toy which aims young pilots to dive into the basics of STEM education.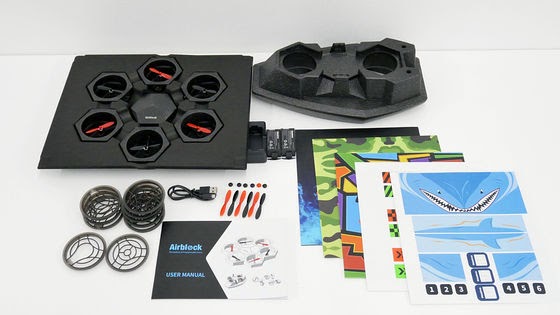 What's in the box?
1 x Main Control Module
1 x Hovercraft Base
1 x Battery
10 x Protective Cover
6 x Rotor
1 x Charger
1 x Charging Cable
Airblock is basically made up of 1 master module and 6 power modules or rotor blades that are magnetized for its easy-to-assemble feature. It weighs around 141g to 200g with a measure of 230 × 222 × 53 mm (L × W × H) for Aircraft and 335 × 192 × 127 mm (L × W × H) for the Hovercraft. The battery is a 7.4V, 950mAh lithium battery only provides about 6-8 minutes flight time while it can last about 20 minutes if you're playing it as a hovercraft. Its battery can be fully charged in 45 minutes.
Airblock's body construction is made of expanded polypropylene (EPP), which is a molded closed cell foam so it makes Airblock light and floaty and durable so nothing breaks even if it crashes. It also has a moulded foam hull so it won't sink in water. The distance can be controlled up to 10 meters and be programmed with the Makeblock App's graphical programming. You can easily perform stunts that you code or make use of the pre-programmed maneuvers from the app so even if you don't have any programming experience, you can fully enjoy it. The build can be controlled on IOS or Android via Bluetooth.
Check Robolink's CoDrone Pro for a programmable drone with Arduino-based remote controller.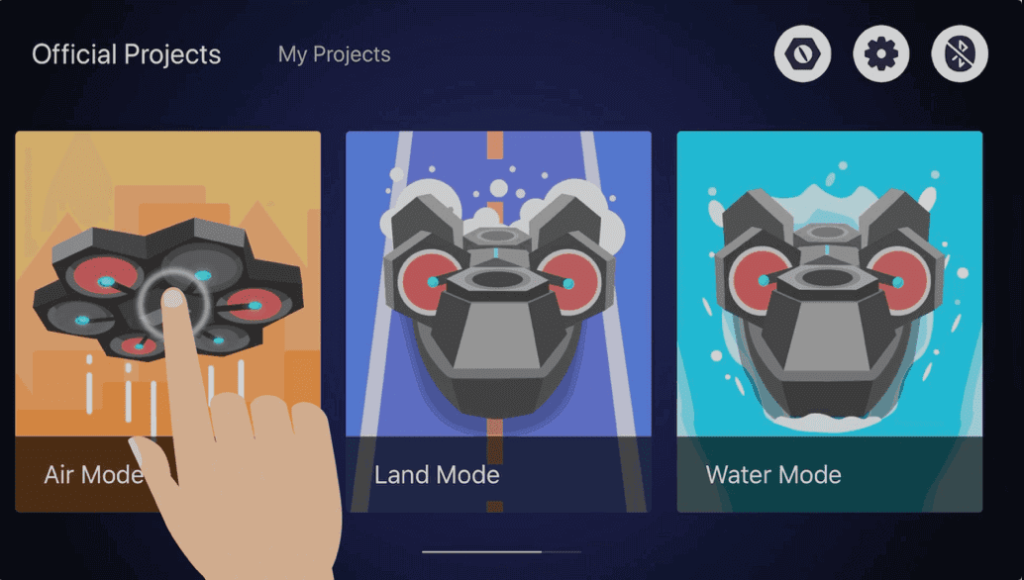 If you're looking for something ideal to teach aerodynamics and coding, an ease-of-use and customized drone, ability to crash over and over again without thinking of any repair costs, this would be perfect for you. But this would test the patience of new programmers or fliers because of its short battery life. In addition, as it is very light, it can be easily blown by the wind so it is hard to fly this outdoors.
References:
https://www.newegg.com/insider/airblock-programmable-drone-review/
https://www.gadgetexplained.com/2018/04/makeblock-airblock-hexacopter-drone.html
https://www.studica.com/blog/airblock-makeblock-drone
https://www.makeblock.com/steam-kits/airblock