While most people consider drones as toys, a high-quality drone is a thoughtful investment and will give you lots of learning and fun at the same time – as drones have greatly diversified its use for the past years. A lot of learning institutions have managed the use of drone kits as tools for teaching codes or for general STEM education.
We look at some of the best drones that can be used for fun while learning codes all at the same time. Though not really the supreme-kind, these drones can be just the perfect tools for developers, even students who are learning the basics in programming.
Nowadays, a lot of learning institutions have put a huge amount of time on education in the field of Science, Technology, Engineering and Mathematics (STEM). These have been relevant these days as more industries move towards automation, programming and data-driven decision making. With this, a lot of parents involve their children in after-school programs that teach robotics and drone coding – this is a good investment for their development and kids love to learn with drones too as these are considered cool and exceptional learning for them these days.
Looking at a drone for STEM education, you need something that is not ready-to-fly. A development kit for DIY programming is a must, where assembly of its individual components and parts are required before flying.
Programmable robots or drones are best when you can customize it from the inside and also a great deal if it gives access ports where you can connect your computer. Additional features like Gyros, barometers and sensors can make the drone more exciting to develop. But the best measure for a programmable drone is when it allows for third-party programming languages and development for coding. Making the code programming easier makes you focus on the features you are trying to develop and not on the side bugs.
Here are the best products that can be used to learn fun and exciting way of flying and developing programmable drones:
CoDrone Pro, Lite and Mini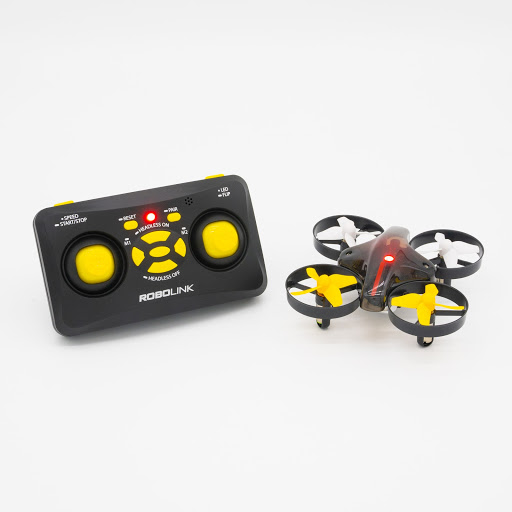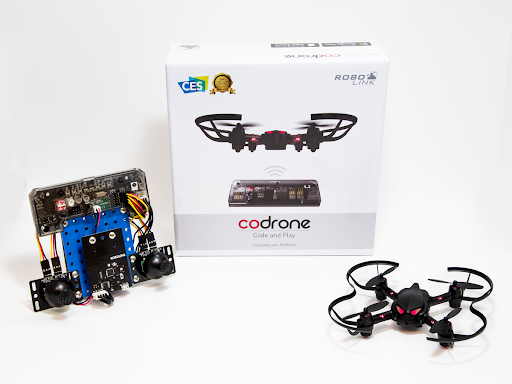 | | | |
| --- | --- | --- |
| Drone | CoDrone Mini | CoDrone Lite/Pro |
| Price | USD 89.99 | USD 119.99/179.99 |
| Color | Black/Yellow | Black |
| Battery | Single cell Lithium ion battery (3.7V 220mAh 30C) | Single cell Lithium ion battery (3.7V 300mAh) |
| Charge Time | 40 minutes | 40 minutes |
| LED | 1 full color (RGB) LED | 8 full color (RGB) LEDs |
| Flight Time | < 5min | 5-8 min |
| Communication Protocol | Radio Frequency (RF) 2.4GHz | Bluetooth Low Energy (BLE) 2.4GHz |
| Range | 80 meters | 20 meters |
| Sensors | -High resolution air pressure sensor for altitude control-3-axis gyroscope and 3-axis accelerometer for attitude control | -Infrared-High resolution air pressure sensor for altitude control-Optical flow sensor for auto hovering-3-axis gyroscope and 3-axis accelerometer for attitude control |
| Weight | 20g (with battery) | 9.1 ounces |
| Dimensions (cm) | 8 x 8 x 3.4 | 13 x 13 |
| Programming Languages | Blockly, Python | Blockly, Python, Arduino |
CoDrone Mini
It is a miniature programmable drone at a much more affordable price. With its smaller propellers, the ability to flip, a rounded frame, lighter form factor, this drone is suitable for younger audiences who are interested in getting into programming with drones. It's also a great starter drone. CoDrone Mini is for younger audiences the same as CoDrone Lite. It is small and has a durable build. Lessons and tutorials can be accessed for free through Robolink's learning site. Fly it around and make it do acrobatics with the remote, with block coding using Blockly for CoDrone, or with text-based coding using Python.
CoDrone Pro
CoDrone Pro does everything the CoDrone Lite does, but it also comes with an Arduino-compatible buildable remote. The CoDrone is a tiny quadcopter computer vision drone that you can easily program to do whatever you want: follow you, engage in laser battles, go through a maze and more. Whether you are brand new to drones and coding or you're a longtime drone lover, you will have a blast with the CoDrone.
Text-based coding is done in the Arduino or Python coding environment but can also be explored through block-based coding with Blockly.
It is considered the best selling drone programming kit of Robolink and was featured in CNBC, CNET and Mashable. It is not only for kids but it is also a robotic kit for adults who want to expand their robotics learning on coding and programming. Currently, it is also being used by a lot of teachers and schools for their programming lessons.
CoDrone Lite
CoDrone Lite is the same drone as CoDrone but lighter. It doesn't have a buildable remote and Smart Inventor main board. It features the new hardware with an additional distance sensor for better fixed height.
It is for younger audiences who want to learn basic concepts behind coding and programming, but may not be ready yet for full-on text-based coding. Learn how to program your own custom flight patterns, how to navigate through obstacles, and more.
Lite can be programmed with Python, a text-based programming language or Blockly for block-based coding.
Parrot Anafi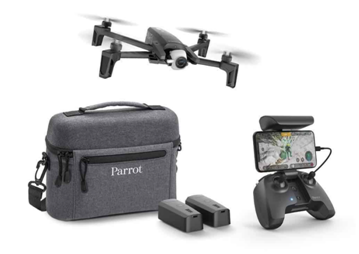 DRONE
Size folded: 244x67x65mm
Size unfolded: 175x240x65mm
Weight: 320g
Max transmission range: 4km with controller
Max flight time: 25min
Max horizontal speed: 15m/s
Max vertical speed: 4m/s
Max wind resistance: 50km/h
Service ceiling: 4500m above sea level
Operating temperature range: -10°C to 40°C
Satellite Positioning Systems: GPS & GLONASS
SMART BATTERY
Type: High density Lipo (2 cells)
Battery capacity: 2700mAh
Battery life: 25min
Charging port: USB-C
Weight: 126g
Voltage: 7.6V
Max charging power: 24W
Manufactured by a French-based company, Parrot ANAFI base drone is designed with a slick foldable arms, making it more convenient to carry – best for travelers who get the most out of a smaller design and ultra-compact.
This drone is smart and powerful as it has an omnidirectional transmission system (4km range) with 50km/h wind resistance / 55km/h top speed in Sport mode. It has approximately 25 minutes of flight time (Smart Battery) and has super quiet flights.
It is easy to use as it has a new FreeFlight 6 application for an intuitive and ergonomic experience. It also comes with advanced visual tracking powered by A.I., SmartDronies for easy aerial selfies and CineShots for automatic landscape videos. You can also play with slow-motion and Hyperlapse modes (speeds footage up to 240 times). Additionally, it offers smart filming and flight modes like auto-follow, orbit and GPC waypoint flying. You can also find a cool Dolly Zoom mode that adds dramatic & suspense shots.
The Parrot ANOFI base price is at $549 and extended price is $699 where the extended version comes with two extra batteries, a compact travel case and additional goodies – not bad for a powerful pack it brings!
As for the camera specs, the ANAFI has ½.4-inch CMOS sensor from Sony, along with a wide-angle f/2.4 ASPH lens. It has 21-megapixel still shots and can shoot video in 1080p FHD at up to 60fps, 4K UHD (3,840 x 2,160) at up to 30fps, or Cinematic 4K (4,096 x 2,160) at 24fps. Best part is the camera can shoot HDR video and has digital zooming capabilities. It is also capable of tilting the camera up and down with 180 degrees of range – this is one unique to the ANAFI and not something you can find with other drones within the same price range.
Tello Quadcopter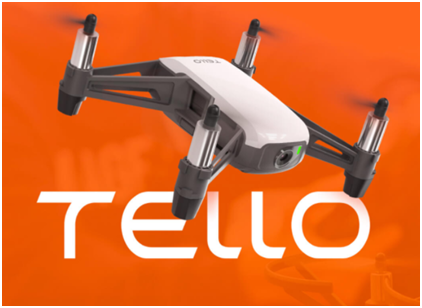 DRONE
Weight: Approximately 80 g (Propellers and Battery Included)
Dimensions: 98×92.5×41 mm
Propeller: 3 inches
Built-in Functions: Range Finder, Barometer, LED, Vision System, 2.4 GHz 802.11n Wi-Fi, 720p Live View
Port: Micro USB Charging Port
FLIGHT PERFORMANCE
Max Flight Distance: 100m
Max Speed: 8m/s
Max Flight Time: 13min
Max Flight Height: 30m
BATTERY and CAMERA
Detachable Battery: 1.1Ah/3.8V
Photo: 5MP (2592×1936)
FOV: 82.6°
Video: HD720P30
Format: JPG(Photo); MP4(Video)
EIS: Yes
The Ryze Tello is a toy quadcopter controllable by a smartphone or laptop (using Scratch). It is a drone kit for adults and kids that you can enjoy while learning all at the same time.
This quadcopter is VR headset compatible for breathtaking first-person view flights and has DJI Flight Tech to ensure stable flights and can give you awesome experience with just a tap on the screen. This can be controlled easily using the Telllo app where it has a user-friendly interface that's why getting started is extra easy. It also has 8D flips to perform cool aerial stunts and has bounce mode where it flies up and down from your hand automatically.
As for the camera, Tello quadcopter is equipped with a high-quality image processor, that's why it shoots awesome pictures and videos. IT has EZ shots where it records coordinated short videos with Circle, 360, and Up & Away. It has electronic image stabilization which captures consistently clear images. This drone comes with an Intel processor for professional processing that yields high-quality footage.
Tello quadcopter is controllable with Mobile scratch programming through Tello Edu. Students can command Tello to perform corresponding movements by dragging coding blocks on their smart mobile device. Students can also develop programming skills by playing games and completing levels. Scratch is a simple, block-based visual programming app that allows students to learn the basics of programming while having fun. For more advanced players, they can develop software applications for Tello using the Tello SDK.
Sky Viper e1700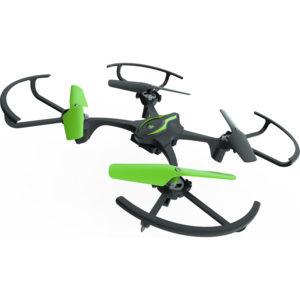 DRONE FEATURES:
Flight Time: ~8 minutes
Charge Time: ~60 minutes
Range: 30m / 100ft
Remote Controller: WiFi 2.4 GHz (included in the set)
Camera: N/A
Live Video Transmission Range: N/A
Weight: 75g / 2.64oz
Working Temperature: 5°C to ~ 40°C
Rated for indoor and outdoor use
No GPS
Position Hold
Speeds of Roughly 25 mph
8 Built in Stunt Abilities
Motors: Brushed Coreless
The Sky Viper e1700 is somewhat different compared to the other drones reviewed earlier. This is considered a stunt drone builder and is perfect for those who really want to appreciate the inner workings of their device.
It comes with a kit where all necessary equipment is there to build your own stunt drone and once the drone is built, it can identically resemble the s1750 model, with eight one-touch stunt buttons perfect for those awesome midair maneuvers.
To start off, there is an available app through the Sky Viper website that gives you step-by-step, illustrated instructions on how to assemble your drone. Also, Sky Viper provides you with an Iphone app suited for Apple users where it gives a step-by-step guide as well in the building process.
The Sky Viper e1700 should not be recommended for anyone who wants to start flying their drone right away. For those individuals who want to fly drones easily, the S1750 is best for them – this is the same product as e1700 without the difficulty of building from scratch.
Conclusion:
Drones are tools for fun and at the same time something that can delight your brains for learning. They are interesting to fly, take pictures and record videos with but on the other hand, they can also be a tool for awesome learning on programming, math, physics, and engineering.
These drones are best for learners who just started exploring the world of drones and also for those experience developers in programming languages as they can test the limits of their skills and even be thrilled that there are numerous tools and videos online that can help them their learning curve and help them improve so as to join the expert group in the testing grounds.
References:
https://dronesvilla.com/review/best-drones-for-developers/
https://www.parrot.com/assets/s3fs-public/2020-07/bd_anafi_productsheet_en_210x297_2018-06-04.pdf
https://uavcoach.com/parrot-anafi-review/
https://www.ryzerobotics.com/tello
https://rchobbyreview.com/sky-viper-drone-review/#tab-con-1