CoDrone Pro is a drone that teaches you how to code. It is the first ever programmable drone designed to teach you to do programming. It is an educational drone in the market that focuses on the need for STEM education in a fun and easy way for children. This drone is the same as the CoDrone lite but it includes a buildable remote that allows you to program through Arduino coding.
CoDrone Pro is light, sleek and perfect for indoor use. With a size of 133mm x 133mm, it weighs just 37g. Its flight range can reach up to 160 ft high and flight time is approximately 8 minutes, which is enough to have a quick round of fun. Battery Charge time is around 40 minutes, which is pretty fast. It also has 3-axis gyroscope, 3-axis accelerometer and barometer sensor for altitude control and optical flow sensor for hovering.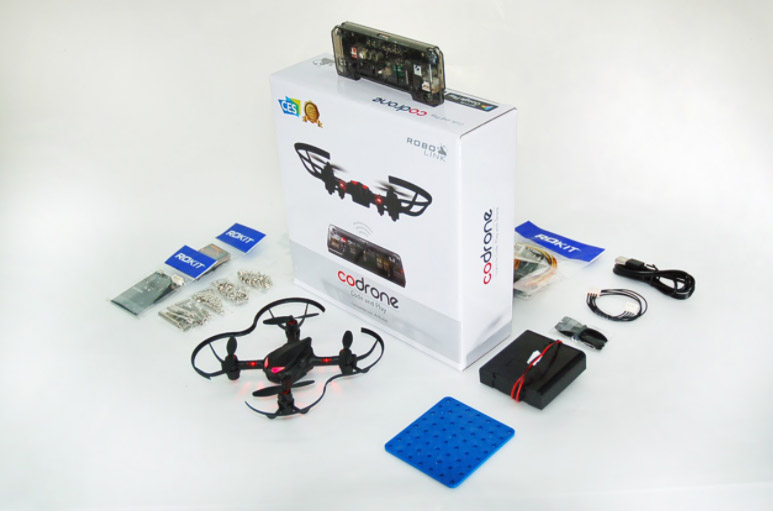 What you can get:
Free online tutorials
CoDrone
Controller building Set
Smart Inventor Board
1 Lipo Battery
USB Cable & Battery Charger
Bluetooth Module
It only takes 10 minutes to build and start flying your CoDrone Pro. The controller assembly includes connecting different structural parts using nuts and bolts, but the user also needs to perform simple wiring procedures – these are all written in the CoDrone Quick Start Guide, which is also included in the box upon purchase. All instructions for the drone can be found on the manufacturer's website, robolink.com. There are also programming lessons available on the CoDrone Workbench where users can get directions for pairing the drone with the controller and the process to upload Arduino – these should be followed accordingly to have the best result.
With the free CoDrone tutorials available on the Robolink website, users can learn how to code drone directions such as yaw, pitch, roll and throttle. Coding can be done using Arduino, Blockly or Python. You can program directly using CoDrone Blockly (https://robolink.com/blockly-cdm) where students can experience a great way of seeing their code come to life. With this program, it will minimize the amount of time it takes from opening the physical box to the moment they see the drone take off. Also, the Robolink website gives several challenges which encourages users to practice different design skills such as planning, testing, optimizing and improving solutions.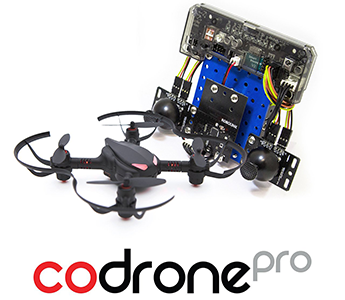 CoDrone Pro is a great tool to learn coding and design. Since the drone and controller must be assembled from component parts, it allows the user a deeper-dive view and sense of how the drone works than a pre- assembled and ready-to-fly drone.
If your goal is to actually learn something while flying, this drone is for you. It may be difficult to assemble some of the parts together, so parents or adults may need to help children with assembly.
Overall, this is one great package for teaching kids to program and it was a lot of fun doing it all at the same time.
References:
https://engineering.purdue.edu/INSPIRE/Reviews/toys/codrone-pro
https://www.thepaperlesstrail.com/2019/02/20/product-review-codrone-programmable-drone-by-robolinkinc/
https://www.stemfinity.com/CoDrone
https://www.robolink.com/codrone/
https://ozrobotics.com/shop/codrone-pro-a-programmable-drone-that-was-designed-to-teach-you-programming/