Nowadays, a lot of people are using AI to look closely on how innovative the world can be and how to improve the lives of many. Intelligence is not a skill but it's how you can learn new things easily and skillfully. With Teachable Machine, a web-based tool launched by Google, people can now start having their own machine learning, AI models or teachable machine projects fast, easy and accessible to anyone.
It's for innovators, educators, students or even to those who are new to machine learning but really want to explore the world of AI. This tool doesn't need any experience or AI knowledge to get started. 
There are now two versions of Teachable Machine. The first one lets anyone teach their computer to recognize images using a webcam. The latest version, 2.0, is much more advanced where you can train your own machine learning project with just a click, no coding required and then export it to websites, apps, and more. It can also recognize sounds and poses.
Teachable machine v1 lets you learn more about the tool and has an easy-to-follow teachable machine tutorial to understand it better. It is developed to train and run machine learning models locally in the browser. The code for this is open sourced on teachable machine github.
How teachable machine works? You only need to train your computer to recognize your images like waving your hands, sitting down with your arms down or simply pose without writing any machine learning code. In just a few minutes, you can export your model or projects to your sites, apps and a lot more.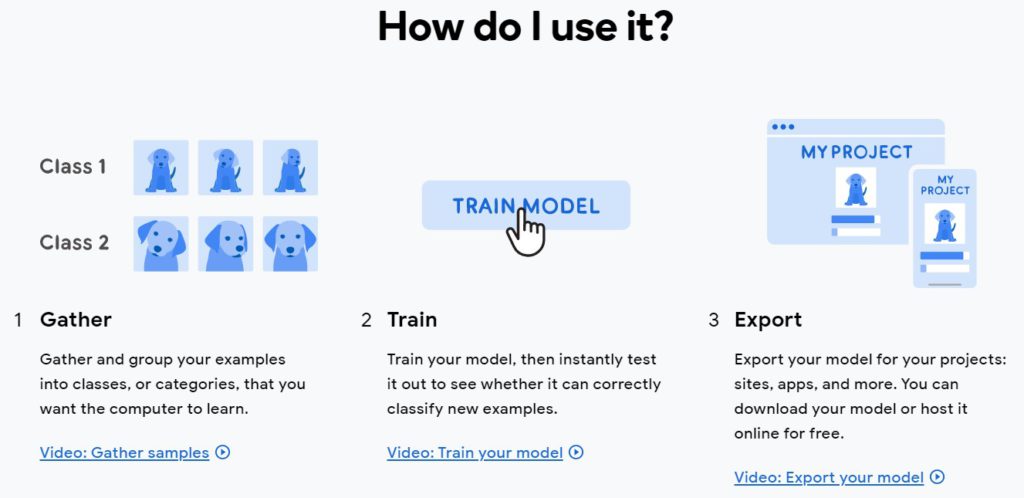 Some awesome teachable machine examples are being made available for you to check out and see how people take advantage of this free of charge web-based tool. Take a look at this epic teaching machine Arduino project — A DIY experiment connecting Arduino + Teachable Machine.
Aside from Teachable Machine, there are other teachable machine alternative, web application or tools to train a machine learning model such as AWS Machine Learning, Open Mind or Gradient.
Ready to dive in to this phenomenal machine learning web-based tool? Get started now here: https://teachablemachine.withgoogle.com/
References:
https://teachablemachine.withgoogle.com/
https://teachablemachine.withgoogle.com/faq
https://blog.google/technology/ai/teachable-machine/